Welcome to Cornerstone Pediatrics
Quality pediatric care delivered with caring, professional, and efficient service is the goal of Cornerstone Pediatrics. We recognize that children and their families have unique health concerns. We want to help children get well and will work with families to help them stay healthy through education about disease prevention and health promotion.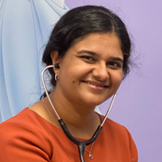 Cornerstone would like to welcome Dr. Chokshi
Dr. Chokshi graduated from an accelerated medical program through the Northeast Ohio Medical University (NEOMED). She completed her undergraduate degree at the University of Akron and followed that by earning her medical degree at NEOMED. She completed her pediatric residency training... Learn more about Dr. Chokshi
New Refill Policy
Please call our office for any prescription refill requests. Due to the volume of unsolicited pharmacy refill requests, we are asking our patients to contact us instead of the pharmacy.
Coronavirus (COVID-19) Updates
We are now offering TELEHEALTH VISITS to all of our patients!
Visit Us
Dayton Children's physician office
3333 West Tech Road
Suite 220
Miamisburg, Ohio, 45342
P: 937-885-4475
F: 937-885-3670
Follow Us
See what's new on Facebook